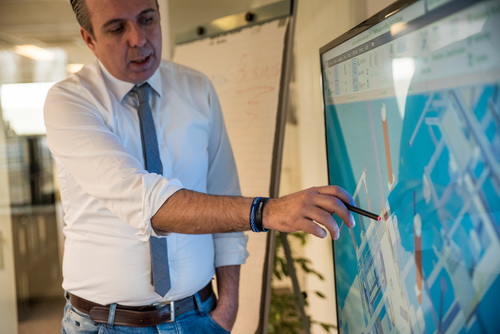 The past year has been very challenging in many ways. We started with beautiful projects and gradually more and more projects were awarded to us. Much more than we expected actually! This has ensured that we have grown in turnover, as well as in the number of employees, and even doubled in the end.
In addition to our engineering work, we were increasingly rewarded with the production and installation of various steel structures. Our clients also asked to order and install other parts besides these steel structures, such as: loading docks, dock levellers, electrical components, aluminum conductors, copper earthing and much more.
Cooperation
As far as production is concerned, we have entered into a partnership with a large supplier of steel structures with whom we have supplied and assembled approximately 110 tons of steel structures for various projects in the Netherlands. Because we want to distinguish ourselves by standing for quality of both engineering and delivery of products, we have decided to set up our own workshop and hire professionals. With the aim of improving quality, guaranteeing delivery times and in some cases even accelerating. This makes us able to produce the most complex steel structures with our own professionals, which are also of even better quality. In order to be able to install all steel structures as well as other parts, we also hired two technicians who work for Bosing. Our clients are already quite familiar with this and always request support for various projects and activities.
In addition, we also hired a number of fellow engineers who immediately became involved in various projects and learned the tricks of the trade in no time. With engineering work, we have been able to realize a larger work volume and several complex projects.
Fence Fencing
Furthermore, we have launched a new company that is fully engaged in the design, production and installation of the most diverse fencing and railings. For more information see www.fence-hekwerk.com
2020
After a well-deserved holiday with the family, we started the new year with fresh courage and energy. As we speak, it is now almost the end of January and requests and assignments continue to flow in. Fortunately, we significantly expanded our capacity last year and tackled the entire process, from engineering to production, assembly and delivery. We are negotiating with new clients in the Netherlands and the rest of Europe, so I cannot deny that 2020 has started very well for us. I would like to take this moment to thank all our clients, relations, and suppliers again for a fantastic and successful 2019. I hope that we will continue to find each other in the coming period to be able to put together even more beautiful and challenging projects. 
I wish everyone the best of luck this year, make it a smashing 2020! If you are interested in our services and / or products, please do not hesitate to contact us. We are happy to discuss the possibilities while enjoying a cup of coffee.
Amir Jatic
Managing Director