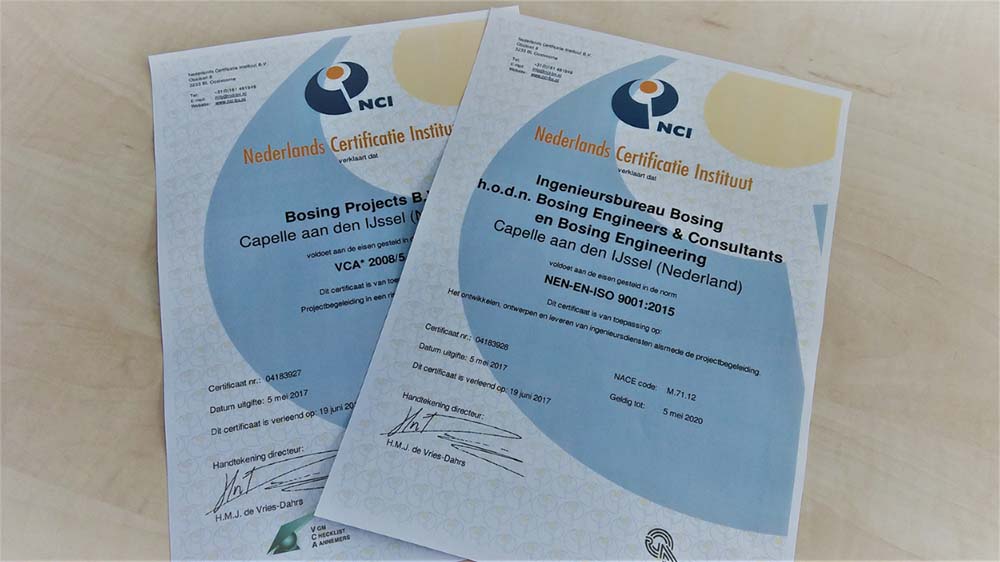 Certificates are in!
Some time ago, the board of Bosing decided to enter the certification process for the NEN-EN-ISO 9001: 2015 and VCA * 2008 / 5.1 standards and passed the process with success. After an intensive implementation period, the Netherlands Cerfication Institute (NCI) decided to award both certificates to Bosing.

NEN-EN-ISO 9001: 2015

In concrete terms, this means that on May 5 of this year, NCI issued a certificate stating that Bosing Engineers & Consultants meets the requirements set in the NEN-EN-ISO 9001: 2015 standard. The certificate applies to the development, design and delivery of engineering services and project supervision and is valid until 5 May 2020. On Monday 19 June last, the certificate was actually granted.

VCA * 2008 / 5.1

In addition, NCI stated that Bosing Projects B.V. also meets the requirements set in the VCA * 2008 / 5.1 standard. This certificate, which applies to project management in a risky environment and is valid until May 5, 2020, was also issued on June 19.

Highest standard

Board member Amir Jatic: "We are proud of obtaining these certificates. With this we can show the outside world that we work to the highest standard when it comes to quality and safety. And that is extremely important in our work! We will frame the original certificates and these will of course be placed on our wall at the office. "